Our wonderful customers are the reason we're in business. Here are some of the great Testimonials they've said about us.
We'll do everything we can to make sure you're a satisfied customer, too!
"I personally have used Purge Right for several years with great results, it helped me with scrap reduction in our facility. I used the compound in several different applications, from injection molding machines with hot runners and valve gates, to using the compound in structural foam machine applications. I stand behind Gary and his product, Purge Right. He stands behind his product, and when we were almost out, he did what he needed to do, to ensure we didn't run out. I firmly believe that if anyone uses this product, it will reduce color change scrap, and in return, save you and your company money. I have included my phone number and email address, if you purchase this product and have any issues or questions with using this product, I will be glad to assist." Process Engineer (name and location withheld but available on request)
"I just completed the trial using Purge Right's material. I must say I was pleasantly impressed. I transitioned from an Ivory ABS to a transparent PC without using additional steps to eliminate the haziness I am used to seeing with other purging compounds.
I metered this in right onto the ABS purged roughly 1.5 pounds and let soak in the barrel for a wee bit. Once I was up to PC temps I purged the PC right into it and used at least 50% less of our virgin material in the transition."
Steve Thompson Sr. Technician Injection Molding – Network & Data Connectors -Idaho.
"I tested the purging compound sample using it to remove black Dynaflex and change to natural Celanex 4300. I tested again today removing black p.c. Bayer Apec 1745 and changing to a medical grade natural PP. Impressive! No leftover purge residue in both cases, very low odor almost non-existent. The volume of purge required to clean both barrels was smaller than I would have expected as well."
Bradley H. – Lead Mold Technician – Medical, Aerospace, Industrial and Electronics industries – Ohio

"The molding machine that was used for this trial was a Cincinnati Milacron 700 ton 70 oz. barrel. The machine had been running a variety of black plastic for several weeks ranging from Acetal, Polypropylene, and ABS. We first ran natural polypropylene through the barrel to start the process as directed in the instruction sheet. We then introduced the Purge Right PR 6000 and turned up the back pressure until the Purge Right started coming out of the nozzle. We then continued running the extruder with the elevated back pressure until it started coming out white. We then reduced the back pressure and filled the entire barrel with Purge Right and let it soak in the barrel for approximately 8 minutes. ( The instructions say 5 minutes but I got pulled away from what I was doing briefly) We then purged out the entire shot that was in the barrel and introduced the plastic and colorant that the job was going to. In this case it was white polystyrene. We continued purging until all Purge Right 6000 was out of the barrel and we were seeing the Polystyrene coming out with the color saturation we were looking for. We then set the appropriate shot size for this job and began to cycle the press in. To both my amazement, and my head process tech we saw that within 3 shots we had acceptable product with no contamination from either the black that the press was running and the Purge Right 6000 that was used. Pretty Cool! "
Michael W. -Shift Supervisor – Custom Molder – Indiana

When using Purge Right™ PR-5000 and Purge Right™ PR-6000 customers are experiencing a reduction of 60 to 80% in down time and a 40 to 50% reduction in scrap.
As with all Purge Right products all components are FDA approved for food contact and pharmaceutical use.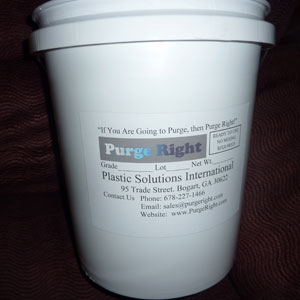 Contact us if you have any questions.
Purge Right™ PR-5000 – is a modified PP carrier with our proprietary FDA approved chemical compounds.
MSDS Sheets available upon request.
Available in 25 lb., 50 lb., 100 lb. boxes, 250 pound drums and 1500 lb. gaylords.